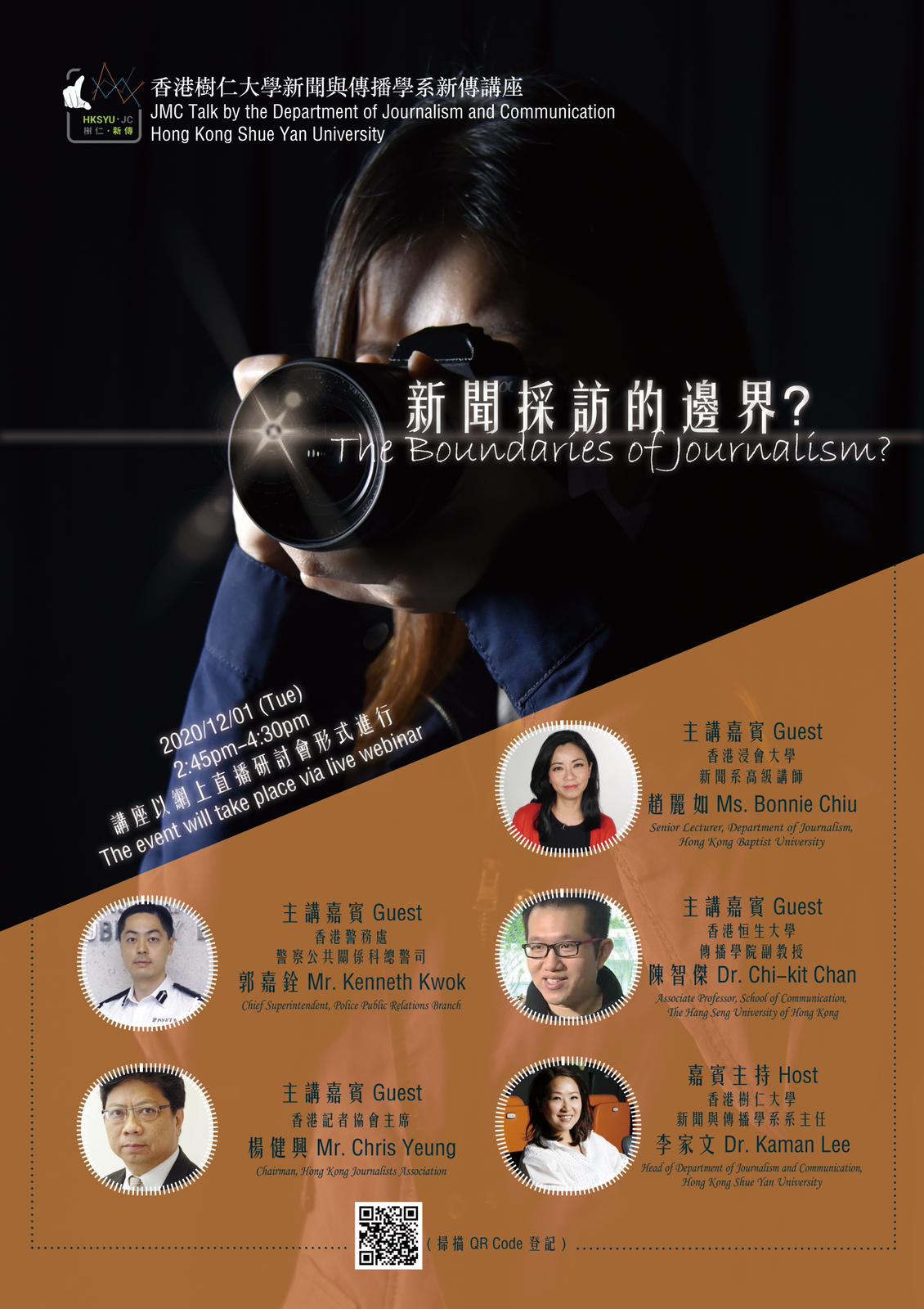 JMC Talk
The Boundaries of Journalism?
Date: Dec 1, 2020
Time: 2:45pm-4:30pm
Venue: Live webinar
Guests:
Dr. Chi-kit Chan (Associate Professor, School of Communication, Hang Seng University of Hong Kong)
Ms. Bonnie Chiu (Senior Lecturer, Department of Journalism, Hong Kong Baptist University)
Mr. Kenneth Kwok (Chief Superintendent of Police Public Relations Branch)
Mr. Chris Yeung (Chairman of Hong Kong Journalists Association)
Host:
Dr. Kaman Lee (Head of Department of Journalism and Communication, Hong Kong Shue Yan University)
(in alphabetical order)
Language: Cantonese
Registration required for non-journalism students to join the live webinar session
(All journalism students will obtain the webinar link via Moodle)
---
Dr. Chi-kit Chan
Dr. Chi-kit Chan is an associate professor at the School of Communication, Hang Seng University of Hong Kong. His research interests primarily focused on communication and media with both quantitative and qualitative social research. He has published research articles in leading journals including Journalism, Chinese Journal of Communication, and China Perspectives. He is also active in major mainstream media as a columnist at Mingpao and a commentator for RTHK.

Ms. Bonnie Chiu
Ms. Bonnie Chiu was born in and grew up in Hong Kong. She received a Bachelor of Social Sciences (Hons) in Communication at Hong Kong Baptist College, Master of Arts degree in Legal Studies from the University of Bristol and a Postgraduate Certificate in Laws from City University of Hong Kong.
She has extensive broadcast journalism experience in both reporting and anchoring. Ms. Chiu worked for the television division of Radio Television Hong Kong, Asia Television Limited, Cable TV and Television Broadcasts Limited. In addition, she once worked as an intern at United Nations Radio in New York and as a trainee solicitor in one of the Hong Kong's largest and leading law firms. Ms. Chiu is a solicitor admitted in the High Court of Hong Kong.
Mr. Kenneth Kwok
Mr. Kenneth Kwok served the community as a Junior Police Call leader before joining the Hong Kong Police Force in 1998. His policing experience covers frontline operational command, counter terrorism, aviation security, professional training, human resources management and police public relations.
Between 2007 and 2011, Mr. Kwok worked in the Commissioner's Office as the Personal Assistant to the Commissioner of Police. He was seconded to the Australian Institute of Police Management in Sydney as a Visiting Fellow between 2014 and 2015. In 2018, Mr. Kwok was promoted to Chief Superintendent of Police and discharged duties in the Conditions of Service and Discipline Branch. In November 2019, he took command of the Police Public Relations Branch.

Mr. Chris Yeung
Chris Yeung is the chairman of the Hong Kong Journalists Association, Chief Writer at CitizenNews, and the founder and editor of Voice of Hong Kong. He is a veteran journalist who formerly worked with the South China Morning Post and the Hong Kong Economic Journal. He writes on Greater China issues.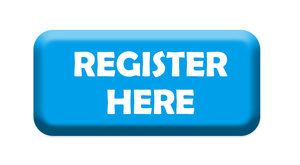 Enquiries:
Please contact Mr. Joshua BUT
Organized by:
Department of Journalism and Communication
Hong Kong Shue Yan University
---
---
新傳講座
新聞採訪的邊界?
日期:2020年11月3日(星期二)
時間:下午2:45-4:30
地點:網上直播

嘉賓:
陳智傑博士 香港恒生大學傳播學院副教授
趙麗如女士 香港浸會大學傳理學院新聞系高級講師
郭嘉銓先生 香港警務處警察公共關係科總警司
楊健興先生 香港記者協會主席
嘉賓主持:
李家文博士 香港樹仁大學新聞與傳播學系系主任
語言:廣東話
有意參加者請即登記以取得網上直播連結
(新傳系同學將在Moodle收到登入連結)
---
陳智傑博士
陳智傑博士的研究興趣包括新聞學、媒體社會學及政治傳播,文章見於《Journalism》、《Chinese Journal of Communication》及《China Perspectives》等國際學術期刊。陳智傑於《明報》撰寫專欄,現在是香港電台節目《自由風 自由Phone》的評論員。

趙麗如女士
趙麗如女士在香港土生土長。她在香港浸會學院取得傳理學社會科學學士(榮譽)學位。她在英國布里斯托大學取得文學碩士(法律)學位,以及在香港城市大學取得法學專業證書。
趙麗如在廣播新聞經驗豐富,包括採訪及新聞報導。她曾在香港電台,亞洲電視,有線電視及無線電視任職。此外,趙麗如曾在紐約的聯合國總部的聯合國電台當實習生,以及在香港其中一間頂尖律師行任見習律師。趙麗如是獲香港高等法院認可的事務律師。
郭嘉銓先生
郭嘉銓先生1998年於中大政治及行政學系畢業,隨即加入警隊,多年來出任不同職位,負責前線行動指揮、反恐、人力資源管理、培訓事務及警察公共關係等。
郭嘉銓曾為兩任警務處處長的私人助理。2014年至2015年間被借調到澳洲聯邦警察擔任教官,至2018年擢升為總警司,並於去年11月起執掌警察公共關係科。
楊健興先生
楊健興先生為資深新聞工作者,畢業於香港浸會大學傳理系,主修新聞,曾任職《南華早報》及《信報》、擔任採訪、管理及專欄、新聞分析寫作等工作。楊健興現為眾新聞主筆,樹仁大學新傳系兼職講師、香港記者協會主席。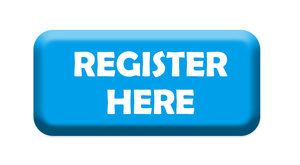 電郵聯絡:
畢礎暉老師
主辦機構:
香港樹仁大學新聞與傳播學系