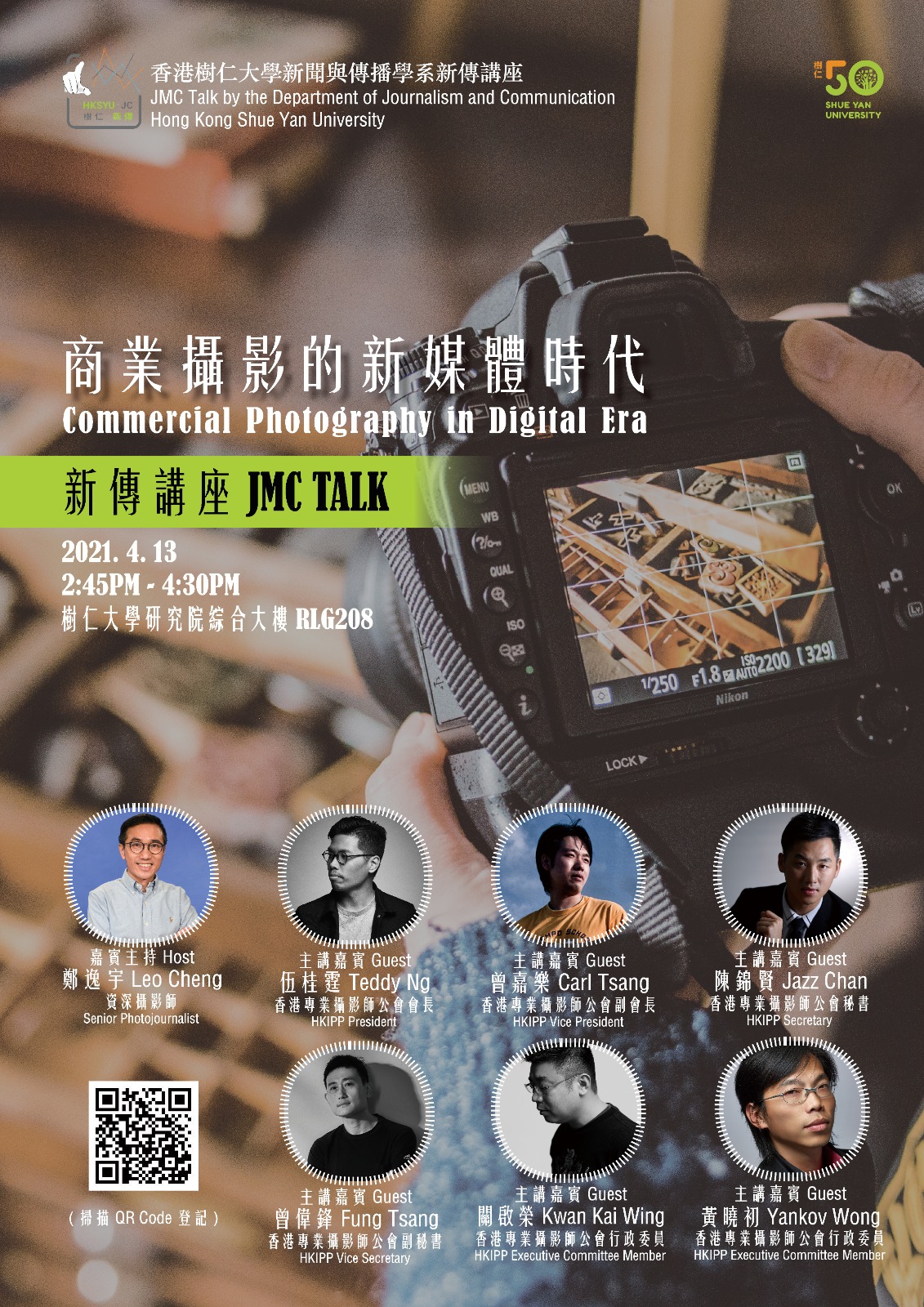 JMC Talk
Commercial Photography in Digital Era
In conversation with six leading commercial photographers
Date: Apr 13, 2021
Time: 2:45pm-4.30pm
Venue: Hong Kong Shue Yan University Research Complex RLG208
Guest:
Mr. Teddy Ng (HKIPP President)
Mr. Carl Tsang (HKIPP Vice President)
Mr. Jazz Chan (HKIPP Secretary)
Mr. Fung Tsang (HKIPP Vice Secretary)
Mr. Kwan Kai Wing (HKIPP Executive Committee Member)
Mr. Yankov Wong (HKIPP Executive Committee Member)
Host:
Mr. Leo Cheng (Senior Photojournalist)
Language: Cantonese
Registration required for non-journalism students to join the live webinar session
(All journalism students will obtain the webinar link via Moodle)
---
Mr. Teddy Ng
A Hong Kong based photographer who has 7 years solid experience in the commercial photography industry and set up t5studio at 2016. His experience ranges from Advertising, fashion, still-life, food, social media and eComm shooting.
Mr. Carl Tsang
A Hong Kong based professional photographer who focuses mainly on portrait, still life, and landscape for his clients. He has started working with Taiwan Tourism Bureau Hong Kong since 2013 for photographing the beauty of Taiwan. Carl has held a number of Solo Photography Exhibitions in Hong Kong, Taiwan, SuperStar Virgo, and Eslite Bookstore in HK to promote Taiwan Tourism and Photography.
Mr. Jazz Chan
One of the famous professional photographers and video producers in town, Jazz leads the Empire Company as one of the recognized advertisement production companies and creative agencies in Hong Kong. Over a decade, Jazz was involved in significant advertisement projects, such as microfilms and rebranding campaigns. Core clients include McDonald's, CMHK, Sino Group, Sun Hung Kai Properties, the Link, Bulgari, etc.
Mr. Fung Tsang
A commercial photographer for more than 20 years, Fung is experienced in shooting various types of products. In recent years, he has developed his expertise in creating sophisticated lighting to show character of each piece of ancient Chinese art and contemporary artworks. His clients include international auction houses such as Christie's.
Mr. Kwan Kai Wing
Kwan Kai Wing has been in commercial photography for over two decades, with vast experiences in a broad range of subjects including portraits, interior designs, architecture and product shooting. In the past decade, he travelled around the world to help raise the corporate image of multinational corporations, including FedEx, Schneider Electric, Hutchison Property and New World Development.
Mr. Yankov Wong
Graduated from the Hong Kong Academy for Performing Arts, Yankov is a cross media artist who has shown his talent as a photographer, director, and musician. His directing credits include short films, MV, commercials, theatre works, musical theatre and opera. Yankov is currently a commercial photographer and director, an examiner for Hong Kong Arts Development Council, and a part time lecturer of HKAPA.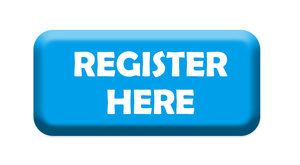 Enquiries:
Please contact Mr. Joshua BUT
Organized by:
Department of Journalism and Communication
Hong Kong Shue Yan University
---
新傳講座
商業攝影的新媒體時代
與六位商業攝影師對談
日期: 2020年4月13日(星期二)
時間: 下午2:45-4:30
地點: 樹仁大學研究院綜合大樓RLG208
嘉賓:
伍桂霆先生 香港專業攝影師公會會長
曾嘉樂先生 香港專業攝影師公會副會長
陳錦賢先生 香港專業攝影師公會秘書
曾偉鋒先生 香港專業攝影師公會副秘書
關啟榮先生 香港專業攝影師公會行政委員
黃曉初先生 香港專業攝影師公會行政委員
嘉賓主持:
鄭逸宇老師 資深新聞攝影師
語言:廣東話
有意參加者請即登記以取得網上直播連結
(新傳系同學將在Moodle收到登入連結)
---
伍桂霆先生
伍桂霆為香港專業攝影師,2016年起創立t5studio並在香港從事商業攝影超過七年時間。主要攝影項目包括,廣告,時裝,靜物,食物及網上廣告拍攝,近年涉獵不同廣告攝錄及電影拍攝。
曾嘉樂先生
曾嘉樂為香港專業攝影師,主力拍攝人像、靜物與旅遊/風景。2013年開始跟臺灣觀光局合作遊走臺灣把各地美景、人民景觀跟觀光元素以光影技術揉合於作品之中。曾於香港、台灣、麗星郵輪處女星號與香港誠品書店舉辦多個個人攝影展。
陳錦賢先生
陳錦賢從事商業影片製作及攝影超過13年,擅長廣告影像宣傳,為皇城帝國公司(Empire Company)創立人。涉及商業客戶範疇眾多,包括中國移動、Bulgari, 信和集團、新鴻基地產、麥當勞等。
曾偉鋒先生
曾偉鋒熱愛攝影,享受透過鏡頭和燈光效果呈現美感,賦與影像生命力。他擁有超過二十年的專業攝影經驗,擅長拍攝多種主題。近年主力拍攝中西方的古董和藝術品,客戶包括佳士得等國際拍賣行。
關啟榮先生
關啟榮從事專業商業攝影逾二十年,涉獵包括人像、室內設計、建築及商品攝影。他善於運用獨特的攝影技巧、構圖及光影控制,創作出具個人風格的作品。在過去十年間走遍世界各地,與跨國企業集團等合作,提供企業形象拍攝,其間更有機會與頂尖企業的管理人員合作,如聯邦快遞、施耐德電氣、和記黃埔、新世界發展等。
黃曉初先生
黃曉初為跨媒體藝術家。畢業於香港演藝學院戲劇學院導演系,獲一級榮譽學士學位。及後於UCLA(加州大學洛杉磯分校)電影電視及舞台學院導演系藝術碩士以優異成績畢業。他的導演作品包括短片、音樂錄影、舞台劇、歌劇等等。他現為商業攝影師、導演,香港藝術發展局評審員,香港演藝學院客席講師。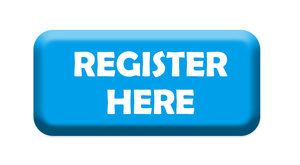 電郵聯絡:
畢礎暉老師
主辦機構:
香港樹仁大學新聞與傳播學系