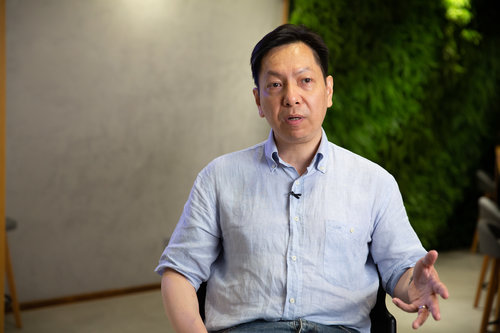 鄭應亮 老師
CHENG, Ying Leong Simon
Part-time Lecturer
Simon was one of the very first desktop publishing specialists working in Inchcape Gilman Business Systems H.K. Limited, in 1990. Leading a software development team, Simon was responsible for evaluating the latest software and was one of the trainers teaching the Apple salesman team about the applications of PageMaker, Freehand, Studio 8, Illustrator, MacroMind Director...etc.
After leaving Gilman, Simon has established his own business since 1999 in various fields, such as manufacturing in reverse osmosis water filter and patented instant congee; distribution of the world most innovated lubricant and Cork, the environmental building material; International commodity trades in Au and oil and design and supply the most sophisticated Home Automation System for developers and house owners in Hong Kong. Since then, Simon has been serving many international corporate clients namely: Microsoft, CLSA, DHL, SunLife Financial, Manulife, Dun & Bradstreet, Caltex, Hang Seng Bank, and Urban Renewal Authority, HK International Airport....etc.
As a graphic designer, digital marketer, personal art advisor, design thinking and innovation management facilitator, and entrepreneur, Simon has all rounded business and marketing experience in traditional ways and digital methods and strategy. From building websites, setting sales funnels, social media, and chatbot marketing to traditional advertising campaigns, Simon has equipped with the most updated marketing knowledge and he is setting up his own Digital and Direct Marketing Academy to teach people how to use digital marketing tools in social media to expand and increase their customer leads and revenue.
As a personal art advisor, Simon contributes his skills to identifying talent and supporting the selection of contemporary art (under HK$300,000) and decision-making processes for the art collectors. Being a star-hunter, a middleman as a bridge between artists and collectors, Simon helps to find talented artists who do not have any promotion platform nor fund. This innovative artist platform will help many undiscovered talents from Mainland China, Taiwan, Hong Kong and Asia to make their dreams come true.
Professional Experience
Design Thinking Fundamentals by DesignThinker Academy
Design Thinking Facilitation Training by DesignThinker Academy
Design Kit: Prototyping -Human Centered Design by +Acumen and IDEO.org
Academic Qualifications
Innovation Management Level 1 & 3 by Global Innovation Management Institute
Personal Art Advisor Certificate by China Antique Arts Association (CAAA)
Major in Fine & Performing Arts –Simon Fraser University
Commercial Design Certificate by Hong Kong Chingying Institute of Visual Arts
Certified Practitioner of Neuro-Linguistic Programming by Life Enrich Training & Consulting Centre and Dr. Denis Wah
Certificate Course in Film by Department of Film Studies, The Film Culture Centre of Hong Kong